Futons Galore at FLAP Stores
Posted in
Products
by Admin on September 6, 2011
0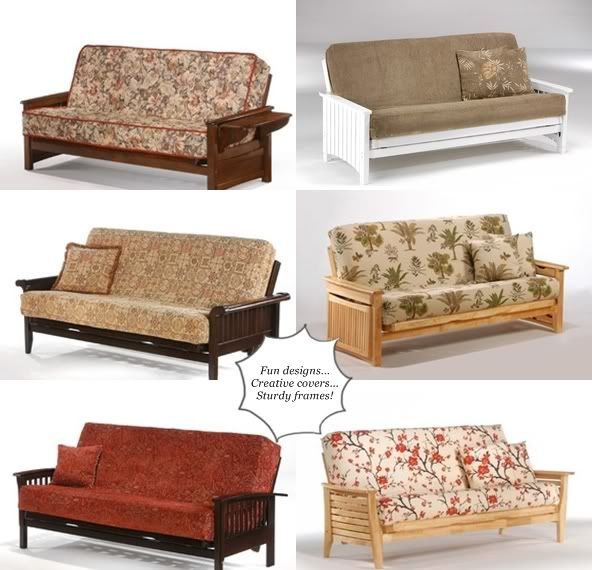 Clockwise from top left: Night & Day Sunrise Futon in Black Walnut, Night & Day Key West Futon in White, Night & Day Raindrop Futon, Night & Day Siesta Futon in Natural, Night & Day Winchester Futon in Dark Chocolate, Night & Day Venice Futon in Dark Chocolate
One of the most popular items at FLAP Stores is the futon. Whether it's in light wood or a more sophisticated black walnut, we see daily inquiries about ones to suit small apartments, transitional spaces, and guest rooms. If you don't have a futon, then you might want to look into getting one: it's the kind of space solution that makes any room just work better. Instead of having a guestroom that rarely gets turned over and doesn't provide much flexibility, a futon can go from couch to bed — that's perfect for a home office space, a den, or simply an extra room. A cozy futon isn't the end of maximizing your space, either, with storage drawers providing the perfect amount of additional space for creative decorators making the most of every square foot.
Some of our favorite futons — you can call them our "FLAP futons of the week" — include the:
Night & Day Corona Futon in Rosewood
Night & Day Sunrise Futon in Black Walnut
Night & Day Raindrop Futon in Natural
Note: The coupon code has now expired; stay tuned for the next one!
FLAP Stores also has a coupon code available for just one more day: use "LABOR" and get 5% off your total of $500 or more. Shop now!